Founder Shizu Furuzawa encounters eyeglass lenses
In the first year of the Taisho era (1912-1926), the country transitioned to a modern state, and public opinion began to sway politics. The founder, Shizu Furuzawa, was born in 1911, the year before that. When he was young, he lost his mother to pneumonia, and spent his childhood struggling with pneumonia himself. The world is Taisho democracy and popular culture is flourishing, and classmates of the same generation go on to higher education and work and play an active role in society. In the midst of this, Shizu, who was delayed due to his illness, used that difficult time as a springboard to ignite his independent ambition and poured his passion into spectacle lenses.
Shizu first encountered spectacle lenses in 1927 at the age of 18 at Shimomura Lens Laboratory, which was introduced by his father. This was the first seed that led to the establishment of TOKAI OPTICAL CO.LTD. At that time, wearing glasses was a luxury for the wealthy. There were lens manufacturers in Tokyo and Osaka, but there was only one spectacle lens factory in Nagoya, this Shimomura Lens Laboratory. Since the president was a master of technology, Shimomura Lens products were highly regarded for their high quality. Shizu, who likes crafts and is good at science and mathematics, is appointed as a foreman at Shimomura Lens because of her natural craftsmanship, and she takes charge of the entire manufacturing process of eyeglass lenses.
Developed Japan's first polishing machine for astigmatism (TC machine)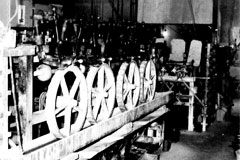 Speaking of the lens manufacturing process in the early Showa period, pressing, rough cutting, gluing, sanding, polishing, peeling, and inspection. One craftsman undertook most of this series of processes, and the craftsman completed the process until just before the inspection. The finish of the lens depends on the skill of the person, and even a skilled craftsman can only make nine astigmatic lenses a day. The production system was far from efficient and mass production. Shizu wondered if there was any way to create an efficient manufacturing method, and immediately began research on manufacturing machines for astigmatic lenses. At the end of the day's work, he read through books with items on "glasses" and "lenses." And one day he found a model of a lens polishing machine. Shizu, who saw it, will devote himself to machine development from the next day. Mrs. Shimomura, the president's wife, readily consented to the development and supported it.
Development was extremely difficult. Polishing machines for astigmatic lenses require curved polishing that differs from spherical lenses, requiring high-precision processing technology. One year passed, two years passed, and finally, in the third year, we were able to produce something with satisfactory quality. Finally, with the completion of an astigmatism polishing machine (TC machine), it became possible to mass-produce 110 lenses in 4 hours of polishing, and 220 lenses in 2 rotations per day. At that time, Shizu was 23 years old. The events of that day were deeply engraved in Shizu's personal history as the greatest achievement of his life.
Establishment of "Furuzawa Lens Factory"
The astigmatism grinder developed by Shizu became well-known within the industry, and soon other manufacturers in the same industry manufactured similar machines. The mass production system boosted domestic demand, and exports also flourished. Shizu's passion for lenses really moved the domestic and overseas markets.
Eleven years after joining Shimomura Lens Research Institute, Shizu Furuzawa decided to go independent. Her younger brother, Masao, who joined Shimomura Lens Laboratory later, left the company at the same time. In 1939, Shizu and Masao founded the Furuzawa Lens Factory in Mukoda-cho, Naka-ku, Nagoya. In consideration of coexistence with Shimomura Lens Research Institute, we decided not to manufacture astigmatic lenses, but focused on manufacturing spherical lenses. In addition, Shizu adopted an assembly-line process that divided the manufacturing process, which was rare among lens manufacturers at the time. In view of the situation of the Sino-Japanese War, the system was designed to take the initiative in dealing with future shortages of skilled craftsmen. Furuzawa Lens decided to supply products to retail stores in and outside of Nagoya city, with a reliable eye for quality that he had trained at Shimomura Lens Research Institute and a reputation that "Shizu's work has a strict delivery schedule."
By the way, during the Pacific War that broke out in 1941, Nagoya, where the munitions industry was located, was in a situation where bombing could occur at any time. Meanwhile, Shizu will be evacuated from Nagoya to Okazaki. The Furuzawa lens factory was temporarily closed, and in 1944, he joined the joint venture "Nitto Kogaku Co., Ltd." in Okazaki City. At a time when it was difficult to obtain machine parts and product materials, Shizu and Masao worked together to build a factory. However, in 1945, a B29 incendiary bomb fell on the city of Okazaki and Nitto Kogaku burned down. The war ended on August 15th of the same year. Shizu and Masao survived the war, but they started from scratch again. There was no time left to mourn the end of the war, and the two of them burned with a new fighting spirit. "Let's start our own company again and make lenses." Thus, Furuzawa Lens Factory set sail for a new era.
Incorporation and Road to AJOC Designated Factory
In 1947, Masao became independent as "Masao Furuzawa Lens Factory". At that time, Shizu specialized in manufacturing lenses for astigmatism and Masao specialized in manufacturing spherical lenses. In the post-war era of material shortages, the voices of people waiting for spectacle lenses did not stop.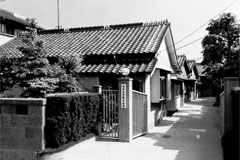 In October 1957, Shizu established Koyo Kogaku Co., Ltd., and in December of the same year, Masao established Shochiku Kogaku Co., Ltd. Establish a company form as a corporation and create a production system with inventory. As a result, retailers no longer need to hold inventories, and manufacturers have a wholesale function, which is very useful for retailers' capital efficiency. The inventory policy also brings new opportunities for Shizu and Masao. In 1958, it was selected as a designated factory for joint purchasing of the ALL JAPAN OPTICAL CHAIN ​​(commonly known as AJOC), the industry's first voluntary chain consisting of seven optical stores. This was due to their inventory policy as well as their overwhelming trust in the quality of the lenses made by the Furuzawa Brothers. Two types of lenses, the "Lumy lens" and the "collector lens," were released, and the number of orders rapidly increased. In 1964, the Tokyo branch office was opened for quick delivery. In the same year, a branch office in Kyushu was also opened, securing a distribution base for the whole country.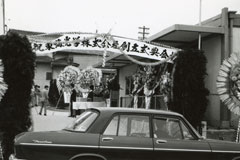 Brothers Shizu and Masao, although they manufacture different lenses, have the same customers and suppliers, and have always worked together to exchange information, such as important business negotiations. It would not be an exaggeration to say that they have played a vital role in driving the spectacle lens market. And in 1965, the two decided to become the two wheels of the company both in name and reality. He founded "TOKAI OPTICAL CO., LTD." to develop the company further by joining forces. Shizu Furuzawa, President and Representative Director, Masao Furuzawa, Executive Managing Director. The two brothers and about 100 employees steered the challenge to the new spectacle lens market with one mind. After that, TOKAI OPTICAL CO.,LTD. achieved rapid development.